Had a perfectly lovely weekend in which I accomplished nothing. Saw some wonderful films with a wonderful lady. Ate a lot. Drank some wine. Met some lovely people whom I hope to see again. Felt fairly comfortable in my own skin, which is healing nicely.

Further to that point, I received an estimate and pictures of my car. $5,050 in damage! They're ordering parts. They should arrive Wednesday, and then it'll take 10 - 11 days. I should have my car back by May. In the interim, I've made friends with the rental car. We survived a long drive in this Nor'easter nonsense last night, and we christened the new EZ-Pass together. We're cool; we're buddies. But I still miss Lorelai.

Walked over to
momtastic's place for dinner and to share the car pictures. (I'll show you a few in a minute.) On the way, I checked my mail. It's been a week. I had two letters from lawyers, and my heart sank. Turns out, they're ambulance chasers. Heard about the accident. Want me to call them and sue. One set of ambulance chasers sent me a copy of the police report. Yay! Now I don't need to call for it or go pick it up.

VEH 1 TRAVELLING NORTH ON WESTON CANAL RD WAS STRUCK BY VEH. 1 WHICH WAS TRAVELLING WEST. DRIVER 1 STATED THAT SHE WAS TRAVELLING NORTH ON WESTON CANAL RD WHEN VEH. 2 CAME OUT IN FRONT OF HER CAUSING VEH. 1 TO COLLIDE WITH VEH. 2. DRIVER OF VEH. 2 STATED THAT ANOTHER VEH. WAVED HER ON TO CROSS WESTON CANAL RD. WHEN SHE ATTEMPTED TO CROSS OVER SHE WAS STRUCK BY VEH. 1. SHE ALSO STATED THAT SHE DID NOT SEE VEH. 1. I FOUND VEH. 2 TO BE AT FAULT DUE TO FAILURE TO YIELD RIGHT OF WAY TO ONCOMING VEHICLES.

I cannot tell you how relieved I am! I think he screwed up his 1s and 2s on occasion there, but you get the idea. This means that I will eventually get my deductible back, and hopefully my rates won't quintuple or anything. Yay! I feel like tap dancing! Only I don't tap dance. I don't dance at all. But I took lessons when I was three. Anyway, pictures:

Smashy:




Obviously hit a black car: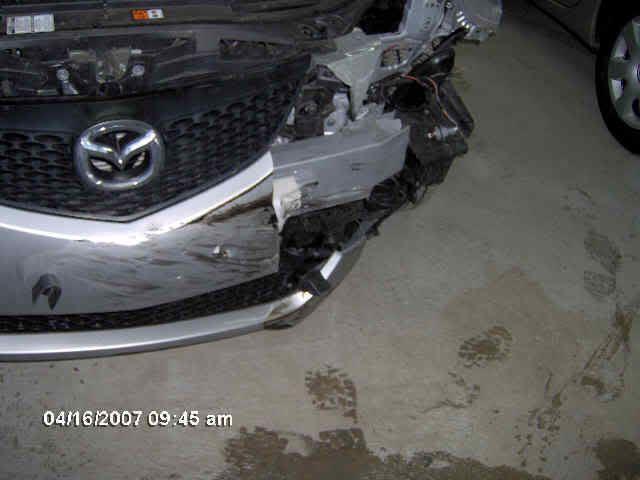 Hood injury: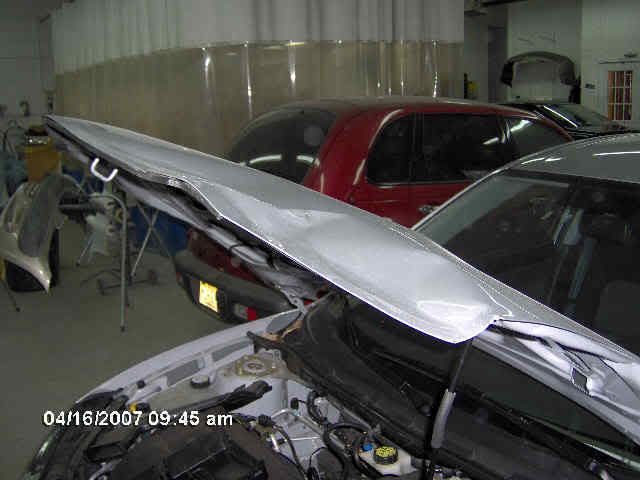 Air bag that punched me in the face -- bet you can't guess my insurance company: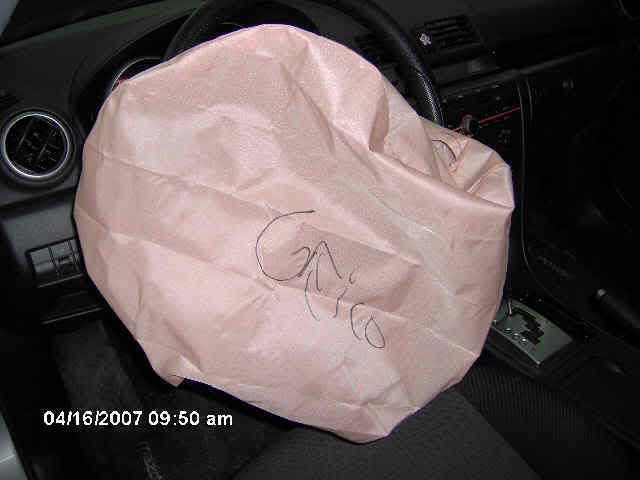 As for the Nor'easter nonsense, I have not been evacuated just yet, but several other buildings in my complex have been. Town looks nearly as bad as it did during Floyd in '99. Very scary, very sad. Bound Brook is on the news, and that's never good. All those businesses that just reopened probably won't bother to do so again. What the hell did the Army corps of engineers spend so much time and money on? Nothing is better. But my family and I are OK. And I had a lovely weekend. And the accident was not my fault. Did I mention it's not my fault? Not my fault!